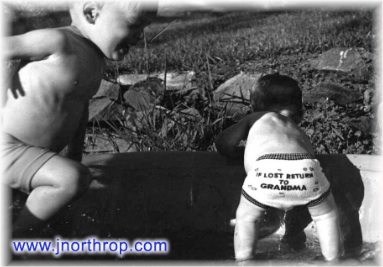 I was born in Pullman, WA and my first encounter with the Catholic Church was at Sacred Heart parish where I was baptized sometime in mid-October 1969. My Aunt Lynn (dad's sister) was my Godparent.


I obviously remember nothing of the ceremony and probably screamed my head off as many babies do when being baptized. One thing for sure - the graces of that event continue to bless me to this very day.

Going to Mass was always a pleasant experience for me as a child. My parents may say otherwise given my exuberant energy.

I was only four when we moved from Pullman to Richland and immediately fell in love with the old mission church in Richland. Msgr. Sweeney was the first pastor of the parish which began in a tent for 150 people. A Government issued church was later built and Monsignor Sweeney served the parish community in Richland faithfully for many years and retired in 1978. I went to my first confession to him and while I was a bit apprehensive, I remember him being very kind and encouraging. He passed away in 1996.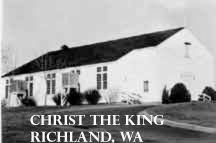 I was very drawn to the sacred environment in our little mission church. With great fondness I can recall the faint smell of incense and I loved all the religious art in the church including the Stations of the Cross. How well I remember when my father taught me how and why we genuflect to the Lord who was present in the tabernacle.

The church was unbearably hot and uncomfortable in the summer which gets into the 90's and 100's in Richland. All we had were giant swamp coolers which adorned every other large window. Short homilies were greatly appreciated and especially ones that eluded to the discomfort and pains of hell.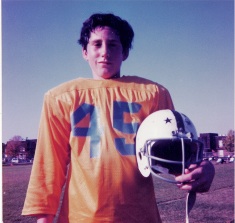 I was pretty disappointed when our new church was built. While it was much bigger and very contemporary it was all white and quite sterile inside. All the religious art and Stations of the Cross I enjoyed when I was younger were gone. The tabernacle was moved into the back of the church in a separate daily Mass chapel and there was no crucifix in the church. I knew we needed a new church with the rapidly growing population and I loved the air conditioning that was added, but I remember even as a youngster feeling a great sense of loss and I didn't understand why everything was taken out of the church. In spite of these changes my faith continued to grow and the changes didn't alter the goodness present in the members of the parish. I always felt welcomed and was encouraged to get involved in the parish. I started singing for Mass as a cantor in the 7th grade and did so until I left in high school for college. I also sang for funerals and weddings.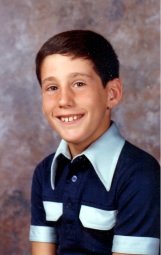 My family life was probably pretty typical as a Catholic. My brother and I attended CCD and attended Mass faithfully on Sundays and on Holy Days of Obligation. My mom and dad were always good about this even if we were traveling. We used to give up sweets for Lent as a family although I remember once during spring break in Reedsport, Oregon, walking by a bakery with my father and him suggesting we trade Sunday for that day since our will power was very weak. I know people have different customs but when we gave something up we were allowed to break the fast on Sundays since those aren't included in the 40 days of Lent. While I gladly went for this compromise as a child, I think it has a lot of drawbacks as an adult especially if you value discipline. (Guess I wasn't into that much as a child.) I certainly don't want to give the wrong impression about my father. He greatly values discipline as you might expect since he worked as an elementary school principal. It's just not the kind of
discipline that has to do with refraining from food; especially hot, glazed donuts.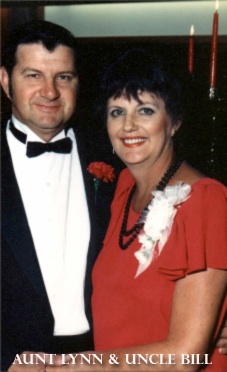 As a child we all probably develop a simple faith. We tend to think concretely and simply about how God relates to us, sending Jesus, etc., and much of the focus is on what God can do for us or how God can protect and shield us. My simple faith ended when we received word that my Aunt Lynn had cancer and was very ill. How could an all loving God allow this to happen? This event didn't fit into the little world of faith I had so neatly constructed. In fact, this news shattered it and left me feeling very confused.

The next two years began a process of ups and downs for everyone. We watched my Aunt enter a process of surgeries and chemotherapy which lasted nearly two and half years. She always managed to look good whenever we saw her and I can't recall that she ever complained. She kept her sense of humor alive and well which seems to be a Northrop trait. Knowing she had cancer made each visit with her all the more cherished and left the question in the back of my mind, "Will this be the last time we see her?"

During the summer of 1986 we received word that she was no longer in remission and after another exploratory surgery the doctors basically informed us they had done all they could do. I remember piling into the car with the family for a surprise visit to the hospital. She was thrilled to see us and got teary eyed when we entered the room. That visit was in August and just about a week or so later I was scheduled for major surgery in Seattle for a recurring and very annoying problem with my esophagus. I remember feeling a lift in my spirit while in the hospital to hear the news that Aunt Lynn made it out of the hospital before I did and I was also very surprised and happy by a visit from her daughter, my cousin, Diana. She gave me a copy of Gary Larson's
The Far Side
. Somehow the medication and my bad disposition didn't allow me to see any humor in the drawings. In fact, I remember flipping through it and getting angry thinking, "I don't get it. This isn't funny." My dad explained one of the drawings to me and I concluded I should read it later when I felt better. I wasn't the best patient during that operation. Just ask my mom who had to put up with my grumpiness. In reality, my faith wasn't as strong as it could be and I know that definitely tainted how I perceived things.


I was scheduled to sing at my cousin Diana's wedding in mid-October and she was wondering if I would feel well enough to do so. It wasn't my best singing given the operation I had underwent but I sure enjoyed the event and thought my Aunt looked great. There were signs that she was not feeling well but I didn't really pick up on them. My mom remembers she didn't walk downstairs to see her daughter before the wedding and the morning after the wedding she just picked at her plate. Still, she never complained and still managed to laugh at my dad's bad jokes. She was amazing!


On November 6, 1986 the phone went off around 2:00 AM. It was Uncle Bill informing us that Aunt Lynn had died. The funeral was held the following weekend and it was bitter cold in Spokane. We had come up from Moscow, Idaho where my brother was making a visit to the University of Idaho. The Vigil was really the toughest part for me. We prayed the Rosary and had a viewing afterwards. I had seen many bodies in caskets given my singing at so many funerals at church but this time the loss was
very personal and felt very deeply. I remember at one point thinking to myself that nothing good would ever come out of this whole ordeal. My faith wasn't strong enough at that point to allow me to see the other side of the cross - the resurrection. I remember the priest at the funeral Mass talking about how the early Church used to celebrate when someone died because they believed so firmly in the afterlife. I thought that was a totally inappropriate remark to make as I watched my cousins grieving the loss of their mom. Little did I know that this whole event would serve as a catalyst for something incredibly good that God had in store for me.

My "Yes" To God
I was a junior the year my Aunt died and during that year I began my preparations for the sacrament of Confirmation. My brother, Joe, decided to delay his Confirmation and join the class I was in. One night a woman came to talk with the Confirmation group about her own personal journey of faith. She told us how unhappy she found herself at one point during her life and that she was frequently getting kicked out of school. Her father was an alcoholic and life just wasn't going very well for her. Tired of living life in this vicious cycle, she knelt down one evening and asked the Lord into her heart, or as she specifically said, she asked Him to be "real" to her and help her sort out the craziness of life. She explained that things began to change in her life and Jesus was no longer someone she knew about but someone she knew. She challenged us to go home and kneel down by our beds and invite Him into our hearts and take seriously the call He was placing on our lives. She said that none of the "faith stuff" we were talking about would make sense unless we gave the Lord that personal commitment. She mentioned that our parents could only take us so far but what God desired was our own personal commitment or "yes" to His plan. Her testimony fascinated and intrigued me.


I had always believed in Jesus. There was never a time I doubted in His existence and the importance of having Him in my life. The woman's testimony only deepened my desire to really know Him and to surrender so that I could receive Him on His terms and not my own which I was fighting to do. I knelt down by my bed that night and too confessed that I was tired of fighting with the Lord about and was ready to take the "plunge" of faith. I invited Him into my heart that night and gave my "yes" and desperately asked Him to show me how I was called to serve Him. The answer would begin to unfold slowly but with joy building each step of the way.

As a youngster I had thought about the priesthood along with a number of other professions. My commitment that night began a process of causing me to think about it more and more. During my senior year I scheduled an appointment with our parish priest to ask him about how you know whether or not you are being called to become a priest and what is involved in that process. He shared with me about his own journey and explained rather briefly the amount of schooling that was required. He also said he would contact the Vocation Director for the Diocese of Yakima and let him know that I was interested in priesthood. I never did hear back from the Vocation Director and had already set my eyes on living in Western Washington. Our Youth Minister at the time was Rob Evenson (now Fr. Rob Evenson) and he was a seminarian for the Archdiocese of Seattle. He put me in touch with a program called
Soundings
which was for discernment program for priesthood.

College & Discernment
I remember feeling a bit embarrassed as I attended a weekend gathering for young men who were interested in the priesthood. I was by far the youngest person there and felt very much out of place. At any rate, I enjoyed the event. I talked with the director after the gathering about my plans for college. I was told at an early age that I needed to provide for my own college education and things worked out for me to attend the University of Idaho. The director of
Soundings
informed me that I needed to get a spiritual director to talk with about discernment and to check in from time to time with the Archdiocese of Seattle. It didn't take long to figure out that the initiative had to come from me. While I always got a response to the letters I wrote to the Vocation Director, there was never any pressure (in fact probably just the opposite) to be pushed into the direction of priesthood. The priest at the college center agreed to be my spiritual director and I met with him on a regular basis.

During my first year at the University of Idaho, I ended up attending a Life in the Spirit Seminar which dramatically changed my life. I don't remember hearing very much about the Holy Spirit during my Confirmation and I think most of us saw Confirmation as an adult affirmation of our faith. This was somehow seen as a statement that we wished to remain Catholic and were making a public commitment to this. I knew a little about the Holy Spirit and only remember singing songs around Pentecost but I don't ever remember being encouraged to pray to the Holy Spirit and I had certainly never heard about Baptism in the Holy Spirit. During the 5th session of our Life in the Spirit Seminar I was prayed over for Baptism in the Holy Spirit and God did something wonderful in me as I began to understand and experience more deeply the Holy Spirit in my life. I immediately noticed a great love and hunger for Scripture, for prayer, a deeper love for the Mass, a desire for community, and I began to understand profoundly why Jesus sent the Holy Spirit at Pentecost and how much of a difference having your own "personal Pentecost" makes. In fact, one night as I was laying in bed and filled with great joy, I remember thinking to myself "Lord, you radically entered my life in a new and exciting way a year and a half ago when I truly invited you into my heart. Now this! It just gets better and better. What's next?"

My time at St. Augustine's Catholic Community was greatly blessed and without a doubt God was forming and teaching me a lot about discipleship, learning to be bold about my faith, and knowing the importance of having the support and fellowship of other believers. It was an incredibly rich and grace-filled time for me. That is until my senior year.

I am a very spontaneous person by nature and am not one who has to have every detail down before taking off and trying something new. However, I was desperately seeking some kind of confirmation from God to show me which direction I was to take in my life and in my desire to serve Him. I really thought he was calling me forth to go into the seminary but at the same time opportunities were opening up with music and exploring a career in performance. I was somewhat torn and beginning to feel very anxious. I knew this anxiety was not from God.

One night as I was preparing to leave for the second night of a parish mission, I stopped and said a prayer. I asked the Lord to show me the direction he wanted me to go because I knew the anxiety I was feeling was not from Him. I grabbed my keyboard and took off to the church to help with music ministry. I didn't expect an answer to come so quickly but it did.
After saying my little prayer of desperation, I arrived at the church and we had a beautiful celebration of Mass. The second part of the mission was about to begin. We began with a decade of the Rosary (I remember Sister Mary saying we needed to put this evening under Our Lady's feet) and then Fr. Carl (the mission priest) took the Monstrance and walked around the church. Sister Mary had the gift of A Word of Knowledge and was calling out healings or other things that the Lord was doing as Fr. Carl walked around. As Fr. Carl came towards me, I was playing
He is Lord
(an old Praise and Worship song that was popular in the 70's). As he stopped in front of me with the Monstrance, Sister Mary began saying, "There is a young man here tonight whose heart is very torn. He has been asking the Lord whether or not he is to enter the seminary to pursue studies for the priesthood or do something else. The Lord says, "Go!"


I was shocked! My first thought (how well I remember this) was that there must be someone else who was asking God about that because I did not expect the answer to come this way. No sooner did that thought pop into my head when I began to feel a tremendous warmth come over me. Deep down inside I knew that "word" was an answer to my heartfelt prayer of desperation. We were told at the beginning of the mission that everything had to be tested and that if we thought something was for us than we needed to tell Fr. Carl or Sister Mary so that they could pray about it. I sheepishly went up to Sister Mary and told her that I thought the first thing she said was for me. She informed me that she would pray about it and walked off. I wanted the confirmation then and there, but it was to come a few days later when they prayed over me. During that prayer, I felt tremendous peace and was given a special reminder by Fr. Carl about the work of the Holy Spirit during the celebration of Mass. The next day I phoned the Archdiocese of Seattle and told the Vocation Director I wanted to apply for candidacy.

I took the necessary steps which included an extensive psychological evaluation, and was accepted as a candidate for priestly studies by Archbishop Thomas J. Murphy.

I studied at St. John's Seminary for 5 years. My first year was by far the best with great teachers such as Dr. Ronda Chervin. My time at the seminary was a blessing and a challenge. I completed my studies and was ordained to the priesthood by the late Archbishop Thomas J. Murphy on June 7, 1997. He died just a few weeks after that.

A few weeks before my ordination to the priesthood, my mom and dad were married in the Church. My mom contacted the deacon at Christ the King to join the RCIA process and came into the Church at the Easter Vigil in 1998.

I have been ordained now for over 24 years and love serving as a priest. I have met some remarkable people over the the years who have inspired me and shown the mercy and love of God. God is good
—
all the time!